The Mixed Set
Quality Cast Iron Salt & Pepper Grinders
Regular price

£189.99 GBP

Regular price

Sale price

£189.99 GBP

Unit price

per
Share
Pre-Order & Availability

There is currently a short wait before orders will be dispatched.

We collected the latest batch of painted casting on Friday 15th October.

This batch will be assembled and shipped no later than 22/10/2021.

Most colours from this batch are now sold. However, we have another batch of castings through the machine shop, waiting to be painted. These should be with us in a fortnight, and dispatched by 15/11/2021.
Free UK Shipping

We offer FREE standard shipping on all orders above £50 to a UK address (3-4 working days).

Orders under £50 will be charged £3.99.

We also offer an express DPD 'Next Day' service for an additional charge of £4.99. Typically delivered next day if your order is placed before 1PM (excluding weekends).

International shipping fees are calculated at checkout.

DELIVERY TIMES MAY VARY AT WEEKENDS AND BANK HOLIDAYS.

IMPORT DUTY MAY BE CHARGED OUTSIDE THE UK.

Before ordering please seek advice from your relevant government department for pricing and restriction information.
Hassle Free Returns

We offer hassle free returns on all orders.

All items delivered within 30 days can be returned for an exchange or refund for any reason.

The cost of return postage is to be paid by the customer unless the order has been incorrectly supplied or is faulty.

We will refund or exchange returned items as long as they're sent back to us complete with all packaging, tags and are unused (i.e. the same as they were received).

Normally refunds and exchanges will be processed on the same day the goods are received back by us.

Orders from outside the UK: The cost of carriage for sending an exchange item to an overseas address will be payable before the replacement item is sent.
Weight, Size & Warranty

Measurements

ø70mm diamater.

130mm total height.

Weight

Each mill has an unpackaged weight of approximately 1KG.

Warranty

We offer a 10 year warranty on our grinding mechanism components. This does not cover cosmetic paint issues, accidental or malicious damage.
Safety & Care

Our mills are easy to care for - Please follow the instructions below to maximise their working life.

1. Please do not put salt in our pepper mills. The grinding components don't have the same corrosion-resistant coating as our salt mills, and they may rust.

2. Please do not put any of our products through the dishwasher.

*Wipe the exterior surfaces with a damp cloth.

3. Ensure you're careful not to trap your fingers in the grinding components of the mill.

4. Our mills are heavy, be careful when handling them and avoid storing them around the edges of surfaces.
Quality Salt & Pepper Grinders, Designed & Engineered to Last a Lifetime
 Luxury cast-iron salt and pepper mills, with a crank handle design. We wanted to redefine what's important in product development. Our overarching goal was to produce products of outstanding quality, that would last a lifetime1.  We want to play our part in putting an end to the increasingly prevalent 'throw-away' nature of modern products and focus on longevity. That's why quality has taken priority, even above our bottom line, in every engineering decision we took while designing the Iron-Mills range.
We offer our professional mills in a range of fantastic colours that look beautiful in any kitchen. Our mills blend in perfectly with products from great brands such as Le Creuset / AGA and more. We have selected the finest components and designed our grinders to be fully serviceable to maximise their longevity. Invest in one of the most used utensils in your kitchen and something that you'll cherish forever.

Our mills are popular amongst 'foodies', chefs and BBQ enthusiasts. Plus, an Iron-Mills set is a perfect gift to mark special occasions, for example, a big birthday, important anniversaries and weddings. 
Precision Cast-Iron Salt & Pepper Mills
Iron-Mills was created by a Rolls-Royce engineer, who turned his hand to product design.
If you're tired of poor-quality salt & pepper grinders, that don't last or eventually become dull, you've landed in the right place.
We want to play our part in putting an end to the increasingly prevalent 'throw-away' nature of modern products and focus on longevity. That's why quality has taken priority, even above our bottom line, in every engineering decision we took while designing the Iron-Mills range.
Perfectly Season Your Food
The burrs of our professional grinding mechanisms have been specifically designed to extract the best flavour by stripping the peppercorns instead of crushing them.
Allowing you to capture the aromatic flavour from your freshly ground pepper corns and expertly enhance any dish.
Control Your Grind for Brilliant Results
Freshly ground black pepper delivers an intense and fragrant flavour, that can both enhance and complement the taste of your food.
A fine grind provides a balanced flavour and is perfect for sauces, while a coarse grind is ideal for marinades, soups and steaks.
You can adjust the coarseness setting on all of our mills - so you can add just the right amount of snap to every meal.
Amaze Your Senses
Our luxury cast-iron salt and pepper grinders are a treat for all your senses. Each mill is carefully cast and finished. The comforting heft of the cast-iron will remind you of its quality with every use.
A Colour for Everyone
Our remarkable colour selection will certainly match your personal style. Plus, our mills have an easy to care for exterior coating, simply wipe them clean with a damp cloth.
We went a step further and coated the internal surfaces with a UK/EU approved food contact safe & corrosion-resistant coating to ensure our mills are safe to use and will last a lifetime.
Quality, It's in the Detail
Our mills come beautifully presented in fully recyclable craft tubes. Whilst keeping them well protected, they look like they mean business, making them the perfect gift for any special occasion.
For Your Peace of Mind
We're so confident that the grinding mechanisms we've selected will last - We're offering a 10-year mechanism warranty to give you peace of mind.
We also offer hassle free returns for 30 days from receiving your order. If you're unhappy, for any reason, send them back for an exchange or refund.
We're Proud to be Made In Britain
We are a small business located in Cheltenham, England. We are pleased to say that all of our products have been designed, cast, coated, machined and assembled here in the UK.
We're proud to support all of our local suppliers and the British manufacturing industry.
Customer Reviews
23 Oct 2021
Neil B.

United Kingdom
17 Oct 2021
Jill W.

United Kingdom
I recommend this product
Best Grinders Ever
Best ever. And oh so stylish. But the fact they work so beautifully is the main reason I would recommend to everyone. I've already ordered another set as a present and will no doubt come back for more.
17 Oct 2021
Joe H.

United States
I recommend this product
Great Service!
Guy was a pleasure and extremely responsive and helpful.
12 Oct 2021
Langdon N.

United Kingdom
I recommend this product
Quality in abundance
Designed and overseen during manufacture by a Rolls Royce engineer, these mills ooze quality. Quality in design, quality in finished appearance and quality in performance. The ethos behind these mills is that they should last forever, and there is no doubt in my mind that they will do just that.
11 Oct 2021
mark f.

United Kingdom
11 Oct 2021
David H.

United Kingdom
I recommend this product
Excellent mills
I have been looking for a durable and easy to use pepper mill for several years and in these Iron-Mills grinders, I have finally found one. The mechanism is smooth and after only a few turns, it produces plenty of ground pepper. Re-filling is fairly straightforward using the funnel provided, but you must ensure that the stopper is pushed back in as far as it can go otherwise it snags on the handle when you grind. Perhaps a lower-profile metal screw cap would be better for a future model. The mills look beautiful as well. Functional and attractive - what more can you ask for?
11 Oct 2021
Angela

United Kingdom
I recommend this product
Timeless design encapsulating perfect engineering
Never has a kitchen purchase been so informative and entertaining. We followed the trials and tribulations of Guy's journey over the past eight months with increasing interest as we learnt about casting and painting processes. We lamented the loss of the logo and then cheered when a solution was found in a stronger, more stylish form. The mills are beautiful. very tactile and feel like they will last forever. They also grind perfectly giving very even pepper grains that appear to taste better! The set looks so good it now lives in the dining table - complete with the perfectly matched mill rest. Guy's attention to detail and 5 star customer service has created a wonderful product and great experience.
11 Oct 2021
Amanda B.

United Kingdom
I recommend this product
5 star product 5 star service
I am so thrilled with my salt and pepper mills (a present to my husband for his 60th birthday) They are of the highest quality and will last for many many years. I was continually updated regarding lead times and delivery. Excellent service and excellent product. Thank you
10 Oct 2021
John M.

United Kingdom
I recommend this product
Pure quality with design excellence
The mills sit atop a beautifully made cast holder plate where they look stunning. In use, they are (reassuringly!) heavy which takes some people by surprise, and they deliver a lot of salt or pepper for the action required. I was struck by what in interesting project this was and it was clearly run with passion. The final product exceeds all expectations and will without doubt become an heirloom. Guy is exceptional and deserves accolades for seeing this through to completion. 10/10!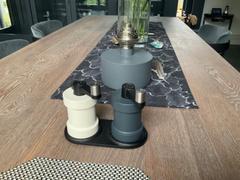 08 Oct 2021
Marie P.

United Kingdom
05 Oct 2021
Anonymous

United Kingdom
I recommend this product
Fabulously engineered bit of kit
I ordered a mixed set of Mills. Anthracite for pepper and Ivory for salt. They look absolutely beautiful and would make good ornaments for anyone who thought they look too good to use. They are a great blend of modern but classic styling. They are clearly made to last. They work really well and grind Tellicherry peppers, which are too large for my Peugeot mill. I haven't had them long enough to judge their longevity but they look as if they are built to last. Guy, who makes them, always responds promptly and helpfully to all queries.
05 Oct 2021
Neil J.

United Kingdom
Fantastic mills!!!!
We have recently received our new Iron Mills mixed set and can honestly say they are amazing, having gone through Guy's journey he keeps you updated and informs you of the progress with your Mills, the quality is amazing and feel they will out live us so no need to buy cheaper Mills anymore, we would recommend these for anyone and would be ideal in a commercial kitchen, brilliant product.
05 Oct 2021
Natasha Y.

United Kingdom
I recommend this product
Beautiful design and exemplary craftsmanship
These salt and pepper grinders sit pride of place on my table (my old ones were always hidden away), but these are beautiful to look at and lovely to use. I have no doubt they will last a lifetime and I was really happy to support IronMills by ordering early in their start up phase. Please support them, you won't be disappointed.
04 Oct 2021
Christopher W.

United Kingdom
I recommend this product
Quality Product
Came beautifully packed with the nice touch of a filling funnel. These mills feel as if they will last for years as they are so sturdy. Great buy.
04 Oct 2021
Jan d.

United Kingdom
Best Mills ever !
They look great but better than that - they work ! I've tried so many and they don't grind or sometimes do but then don't for long. These just work, look great and are worth every penny.
03 Oct 2021
Anonymous

Australia
I recommend this product
Our Iron Mills Salt and Pepper Grinders
Our Iron Mills salt and pepper grinder set reached us safely in Australia in August and we have been very pleased with them. They are very efficient and with an excellent, easily adjustable mechanism. They should last a lifetime and are not easy to misplace. They have been admired by our middle-aged children and we have ordered another set as a present for one of them. Colin Avey